Kudos to the Sussex County Branch for hosting a superb Fall Meeting at Sparta High School on September 30. Sussex Vice President Tom Makoujy, the branch Executive Board, and all the volunteers worked hard to make the meeting a success. Corresponding Secretary Judy Tonkin hired the caterer and the food was terrific – right down to cupcakes decorated with honey bees! Treasurer Glenn Hawkswell kept the finances and attendee registrations in order, while JC Cowell manned the controls in the state-of-the-art auditorium. From the array of vendors, to the informative speakers, hive inspections led by State Apiarist Tim Schuler, and ending with wonderful items in a tricky tray auction, the meeting was lauded by featured speaker Jerry Hayes (American Bee Journal "The Classroom" author and former Florida State Apiarist) as one of the best he had attended, commenting that "…this was one of the best organized and prepared Bkprs [sic] meeting [he had] been to in a long while. Very comparable to a National mtg [sic]." Many, many thanks to all the Sussex Branch members who volunteered and made this meeting a wonderful experience.
Our next state meeting will be the 2018 Annual Winter Meeting, which NJBA Vice President Chris Yates is working on. It will be held over two days on February 17-18, 2018, so please mark your calendars. This will be preceded by the NJBA Annual Honey Show. I hope that many of you have saved at least three jars of honey to enter in the show. If you have any questions about the show or the rules, please contact Honey Show Chairperson Cynthia Werts, CynthiaWerts@aol.com.
Membership data is now online in an application called "Wild Apricot." I encourage all members who have not already done so to go to https://njba38.wildapricot.org/ and login to your profile and check that your information is accurate and up-to-date. Just click "LOGIN" in the upper right corner of the screen, type in the email address that we have for you, and click "Forgot password." You'll receive an email with instructions for setting up a password for your membership profile. You'll be prompted to enter your email address and copy a code to prove you're a real person, then click "submit." If you get the message "Email not found," send me an email at president@njbeekeepers.org and I will fix the problem. The system will automatically send out notifications when it is time for you to renew your membership, and you will be able to do so online.
We continue to work with the New Jersey Department of Agriculture (NJDA) on the beekeeping regulations, which were pulled from publication in August due to the response from NJBA members. I met with the NJDA on September 6 and participated in a telephone conference where MAAREC (Mid Atlantic Apiculture Research & Extension Consortium) representative Dr. Deborah Delaney was able to provide her feedback on the shortcomings of the proposed regulations. I will keep everyone apprised of any progress as well as what actions we will need members to take in order to ensure that these regulations are balanced and factually based, protecting both beekeepers and non-beekeepers in NJ. In the meantime, I encourage everyone to consider joining the NJ Farm Bureau. You don't have to be a farmer to join, and they have provided pivotal support for both the legislation and the regulations. You can join for $60 a year as an associate member at https://njfb.org/join/. If you do join, make certain that you let them know that you are a beekeeper, that you appreciate their past support, and that going forward you want them to support regulations that encourage and protect beekeeping in NJ.
We will again participate in the annual NJ League of Municipalities Conference in Atlantic City on November 14-16, 2017. I will be sending out an email with details on how you can volunteer to help by manning our booth and speaking about beekeeping to attendees from towns all over the state. The conference is heavily attended by municipal employees of all stripes including elected officials. It is an opportunity to educate town officials about beekeeping in NJ.
Once again, I will make a plea for members to volunteer to participate in a nominating committee to prepare a slate of officers (President, three Vice Presidents, Treasurer, Recording Secretary, and Corresponding Secretary) ahead of the annual elections to be held at the Winter Meeting in February. This involves composing emails soliciting candidates that can be sent out to members. We also need folks to consider running for NJBA Executive Board positions. If you are interested in running but have questions about what is involved, please feel free to contact me either at president@njbeekeepers.org or on my cell phone at 908-295-7620.
I understand from our calendar maven, Becky Wunderlich, that the 2018 "A Year in New Jersey Beekeeping" should be at the printer by the time you receive this newsletter. Once again, it will be full of beautiful photographs submitted by members and month-by-month information on what you need to be doing for your bees. Keep your cameras with you when you're working your bees throughout the year so that you have photographs to submit for the 2019 calendar. Calendars will be available from your branch for $10 as well as online. I'll let you know when they're ready.
Another beekeeping season is rapidly approaching the end. The bees in my backyard are busily working the buckwheat that I planted from the seeds I purchased at the NJBA Annual Picnic and Auction in August. For the first time in many years, there appears to be a very decent nectar flow in my neck of the woods (Morris, Somerset, and Hunterdon Counties), noticeable because quite a few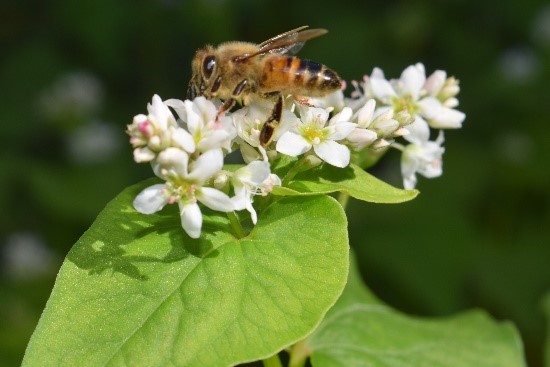 of my hives are storing some nice, dark nectar and are heavy enough not to require feeding. I hope everyone has checked their hive weights and gotten mite populations under control.



Janet A. Katz, President


Have a swarm of honey bees on your property?
Want to find a beekeeper to come and remove them?
To find a NJ beekeeper interested in collecting swarms in your county, click here.
Don't know if they're actually honey bee? Click here for an informational brochure.
Having trouble locating what you're trying to find?

Click here, to search our entire web site.