NJBA President's Message April - May 2015
The primary mission of our Association is to "Promote and support all aspects of beekeeping in New Jersey". We're also chartered with educating and informing the public about the importance of beekeeping and the beekeeping industry in the state and with dispelling myths about beekeeping. Thanks to efforts by State Apiarist Tim Schuler, members Rebecca Wunderlich, Julie Jurusz, Landi Simone, Joe Alvarez and others, over the past several years we have been able to produce five fabulous brochures with information about swarms, responsible use of pesticides, planting for honeybees, membership in the Association and how honeybees are different than other stinging insects. Association member David Leary, of Paper Strategies, is our printer.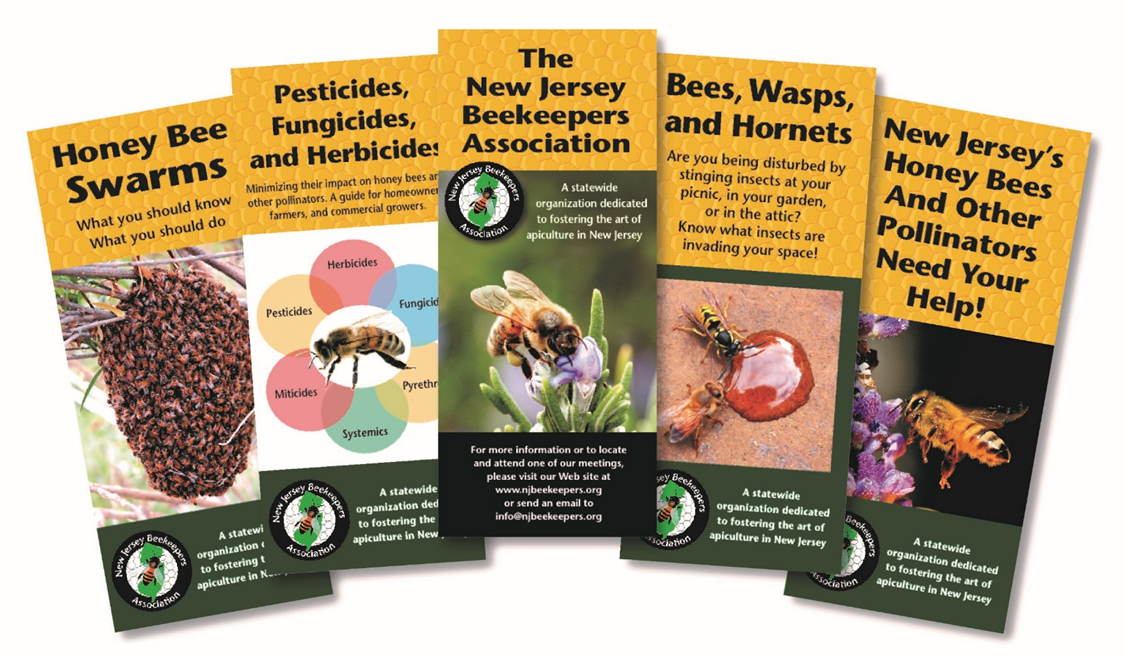 The brochures are ordered through the Association by branch presidents for distribution by the branches and members at 4-H Fairs, Farmers Fairs, and County and State Fairs where the branches perform outreach. The Association has used them effectively at the League of Municipalities Annual Conference. Additionally, the Pollinators Need Your Help pamphlet was distributed with the plants that were given away by branches at fairs last summer in conjunction with our USDA Specialty Crop Block grant. New supplies of the Swarms and Bees, Wasps and Hornets brochures were sent to branch president last fall, and they should have recently received supplies of the remaining five brochures.
The Northwest branch will be hosting the annual state spring meeting on Saturday, June 6, 2015 at the Fellowship Village in Basking Ridge. The featured speaker will be Dr. David Tarpy from North Carolina State University. You can register online at
http://www.njbeekeepers.org/store/
.
On March 3, 2015, the New Jersey Fish and Game Council approved an updated Comprehensive Black Bear Management Policy that continues the annual December hunt, adds an October hunt beginning in 2016 and calls for enhanced education efforts in parts of the state experiencing black bear encounters for the first time, among other measures. Once the Policy has been published, a 60-day public comment period will be opened, with public hearings. Many beekeepers have experienced losses due to bears, and we will keep you apprised of the progress of the updated policy so you can voice your support.
The NJBA will be hosting the Eastern Apiculture Society (EAS) annual conference in 2016. Jeff Burd, one of the Association's vice president's and our delegate to EAS will be the lead in working with EAS officers to accomplish this. There will be plenty of opportunities to volunteer and Jeff will be reaching out to members to participate in the coming months.
Finally, after 10 years, Curtis Crowell has stepped down as Treasurer of the Association. I will greatly miss his attention to detail, his organizational skills and his willingness to step in and help when and where needed. Charles Ilsley has stepped forward to take up the responsibility of state treasurer and Curtis has helped him to transition. Let's all thank Curtis for his many years of service and welcome Charles as our new treasurer.